Wallace Miller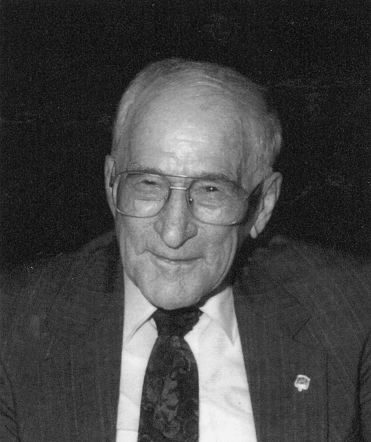 Wally was a county agricultural agent in the early 1940's when he and some farmers from Scott and LeSueur counties formed the Minnesota Valley Breeders Association. The farmers suggested that they locate their jointly owned sires at one place and that their cows be inseminated artificially. They moved into a vacant building, stalls for the bulls were installed and a semen collection room and laboratory set up. They started operating in 1941.
Following a number of problems, principally that the cows weren't settling well enough to satisfy the members, Wally took it upon himself to solve the issues. It soon became very clear that he inherited a full time job, so he resigned as county agent to devote full time to the management and operation of the association.
By 1942, 18,000 were serviced and the organization was on its way. It quickly became one of the leaders in the growth of artificial insemination in the dairy industry. People traveled from all over the world to Miller's farm near New Prague to learn about artificial insemination.
Wally served as Manager of Minnesota Valley for 30 years and he retired in 1971. Under his leadership, Minnesota Valley Breeders:
Became one of the most successful farmer-owned cooperatives in the nation.
Was the leader in the use of frozen semen and produced it at reasonable costs.
Developed an outstanding plant with the necessary sires, farmlands and a dairy herd as part of the company.
Developed a progeny testing program to improve the measuring of the genetic value of sires.
Helped improve feed quality thereby increasing milk production as dairy farm income.
Installed a liquid nitrogen plant that provided artificial breeding cooperatives with the necessary refrigerant for frozen semen.
Other Accomplishments
Helped organize Minnesota Valley Electric Cooperative.
Helped establish Minnesota Valley Engineering Co., which provides the most modern equipment used for storing and transporting semen.
Co-founder of Holy Trinity Church of New Prague.