Ed Frederick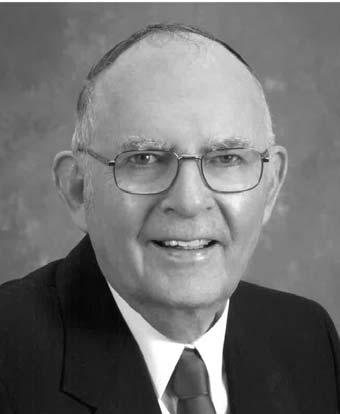 Ed grew up in the Madison Lake area on a livestock and dairy farm. He was active in 4-H and was a delegate to the 4-H Congress. He was in FFA at Mankato High School and held a number of offices at the chapter level and received the FFA State Farmer degree. He was also later awarded the Honorary American FFA degree.
Ed earned his Baccalaureate Degree in Agricultural Education; Masters Degree in Dairy Production and in 1957 earned the Ph.D. Degree in Dairy Physiology at the University of Minnesota. He was a member of the University of MN Dairy and General Livestock judging teams. He served as animal scientist at the University Of Minnesota Northwest School Of Agriculture in Crookston from 1958-1964. Dr. Frederick became Superintendent of the University of Minnesota Southern School of Agriculture and Experiment Station in 1964 and later became Provost, then Chancellor, of the University of Minnesota-Waseca, serving in that capacity until 1990. Since leaving the Waseca program, Ed has served as Senior Fellow, Humphrey Institute of Public Affairs and associated with the College of Agriculture, Food and Environmental Sciences.
Ed has been recognized by a number of organizations for his many contributions to agriculture, including the WCCO Good Neighbor Award (1990), the Merit award recipient of Gamma Sigma Delta(1994), the Waseca Community Service Above Self Award (2002), the Lifetime Leadership Award of the Minnesota Rural Partners (2002), the Lifetime Achievement Award by AgriNews(2005), the Minnesota FFA Hall of Fame (2004), and Distinguished Service Award from the South Central Education Association (1971).
Ed has served on numerous boards of directors including the Bob Hodgson Student Loan Fund, Southeast Minnesota Initiative Fund, United Way, and Minnesota Ag in the Classroom (President 1995/96). He has maintained memberships in the American Assn. for the Advancement of Science, National Assn. of Colleges and Teachers of Agriculture (President 1976-77), Minnesota FFA Alumni Assn. (President 1998-2000), MN FFA Foundation Board of Trustees (Chair, Executive Sponsors Board 2006-2009), Rotary International (Governor 1982-83), Knights of Columbus and the Waseca Area Chamber of Commerce. He's listed in Who's Who in America and continues serving in a leadership role in a number of other organizations. For years, he was published in Hoards Dairyman's and he had a regular TV program at KEYC in Mankato. Currently Ed is directly involved in guiding the Minnesota Dairy Leaders Roundtable and chairs the Board of Directors of Farmamerica.
Virtually all of Ed's work in college and since has been devoted to agriculture. While Chancellor at the University of Minnesota-Waseca, Ed provided leadership and support of programs that attracted outstanding faculty and students in animal agriculture. Many individuals and teams went on to secure national titles. An estimated 5,000 young people (2-year degree graduates from Waseca) had the benefit of that animal agriculture preparation and training over the 20 plus year life of the college (from 1971-1992).
Ed and his wife, Shirley, have been married over 60 years (since 1951) and have five children, eight grandchildren and two great grandchildren.